Van use Electric stacker self-load unload pallet truck Battery operated 1.2T 1.2 Ton
1.2Ton 1200Kg 1.2T Battery pallet truck Electric Pallet Stacker 1.6M 2M 2.5M 3M mast with Ce ISO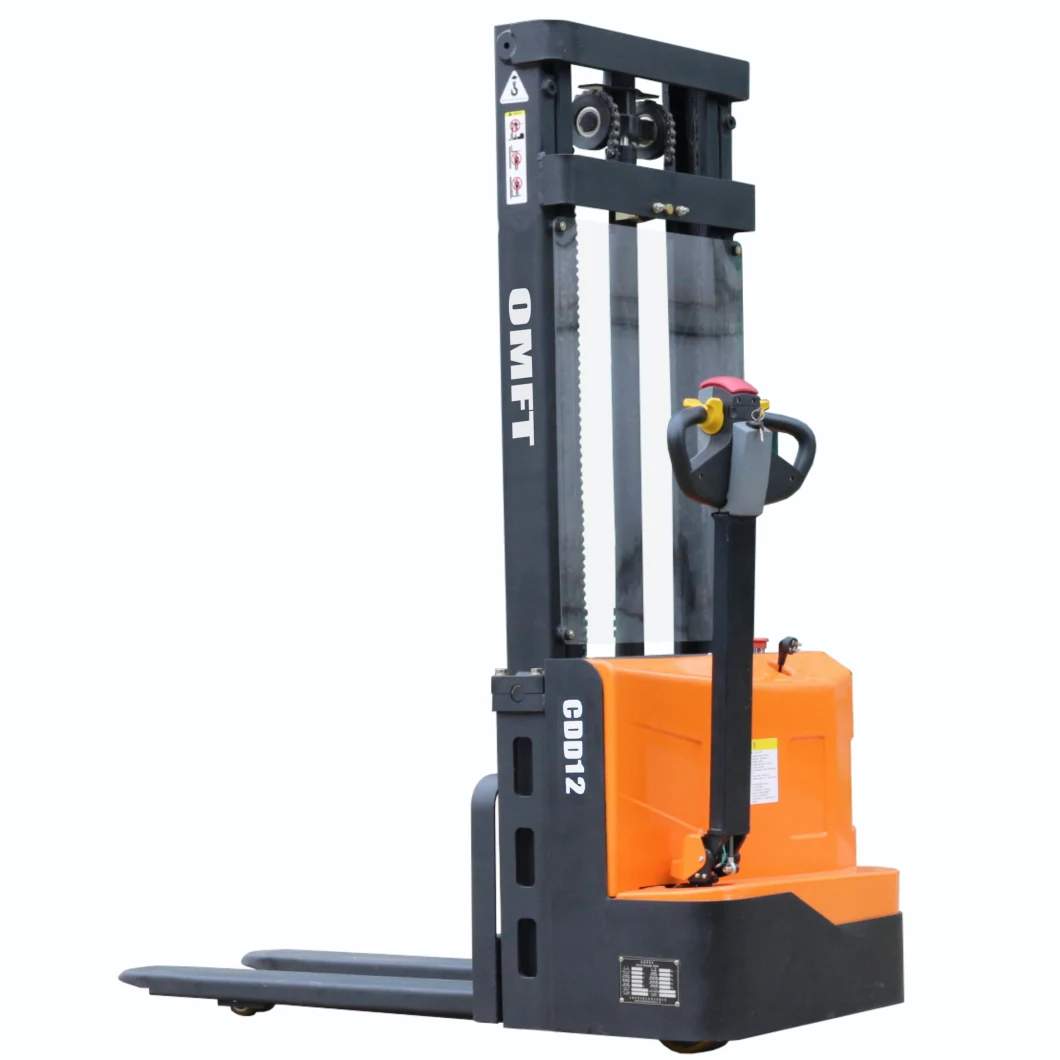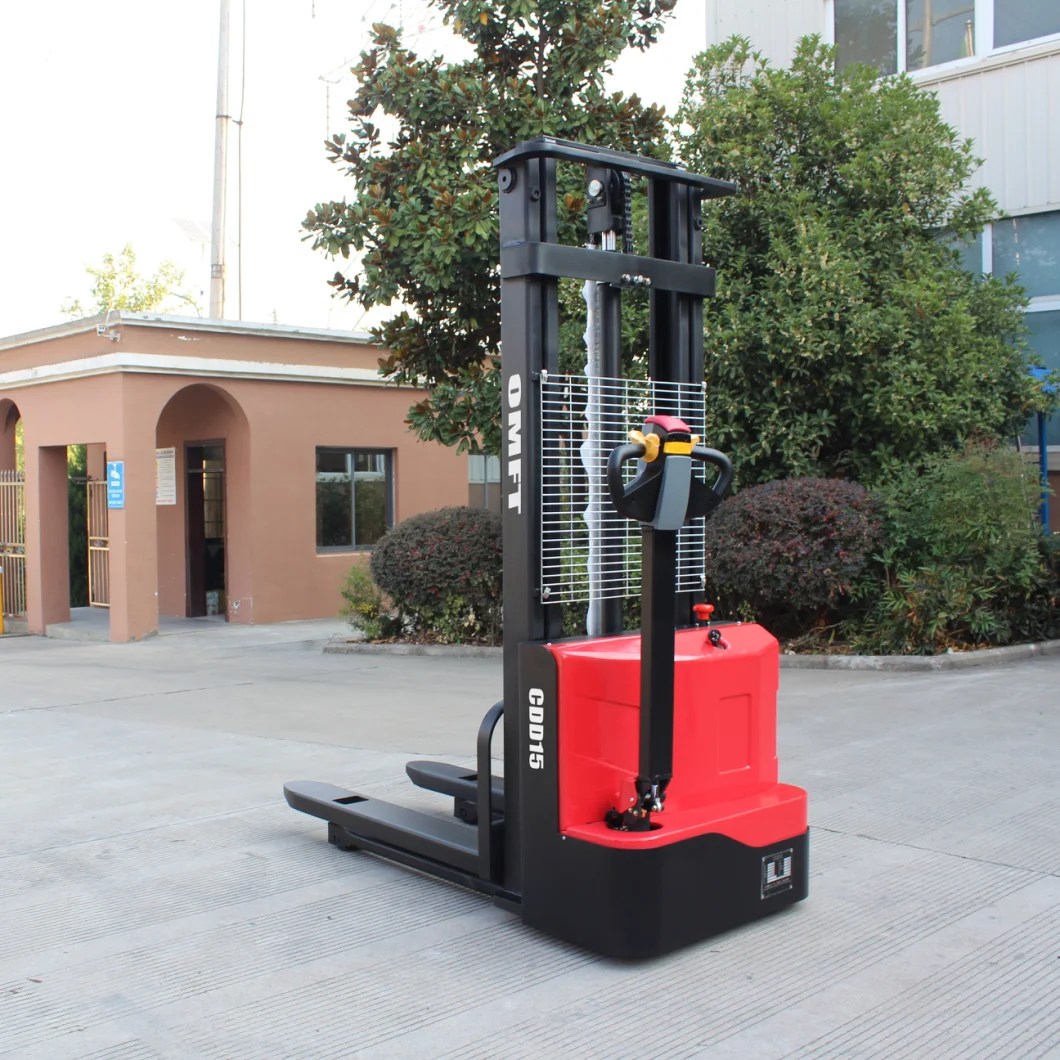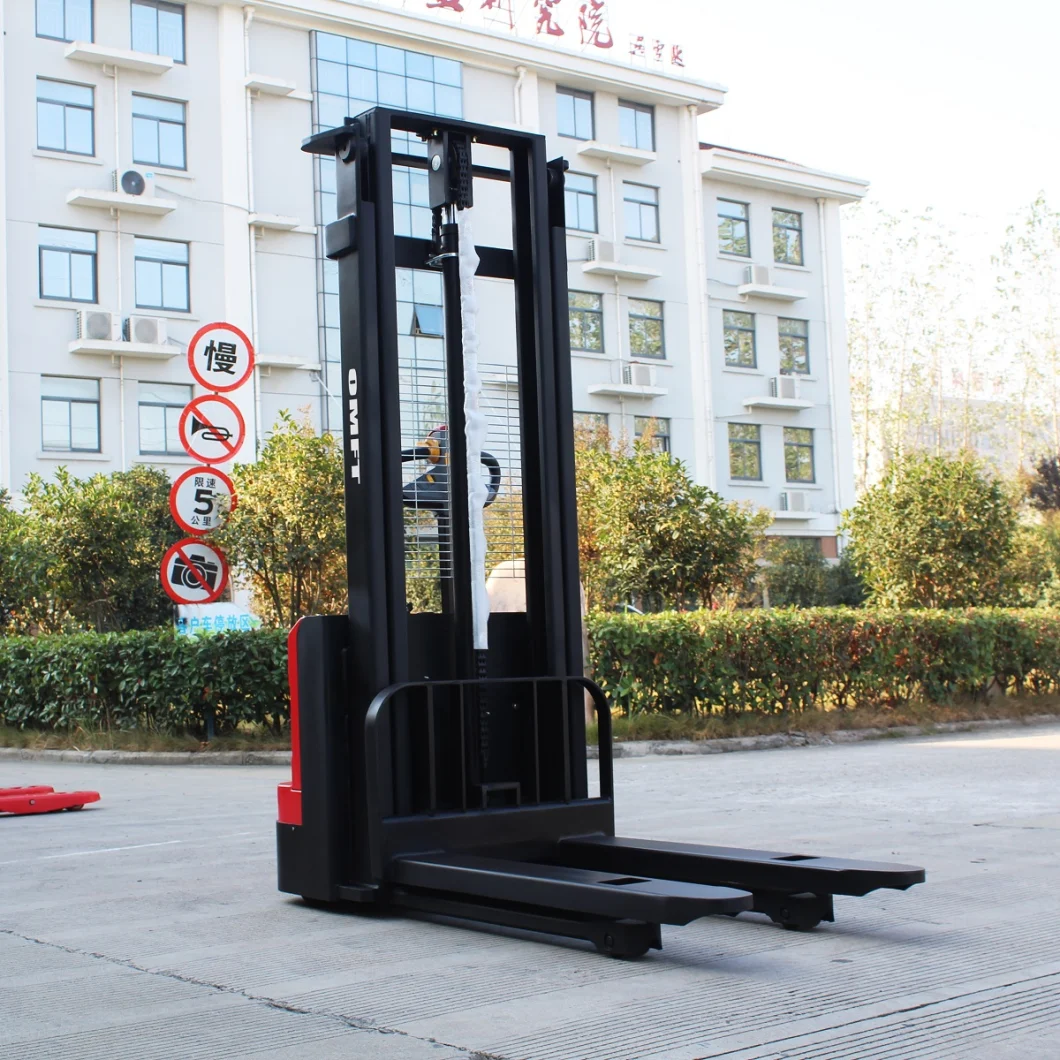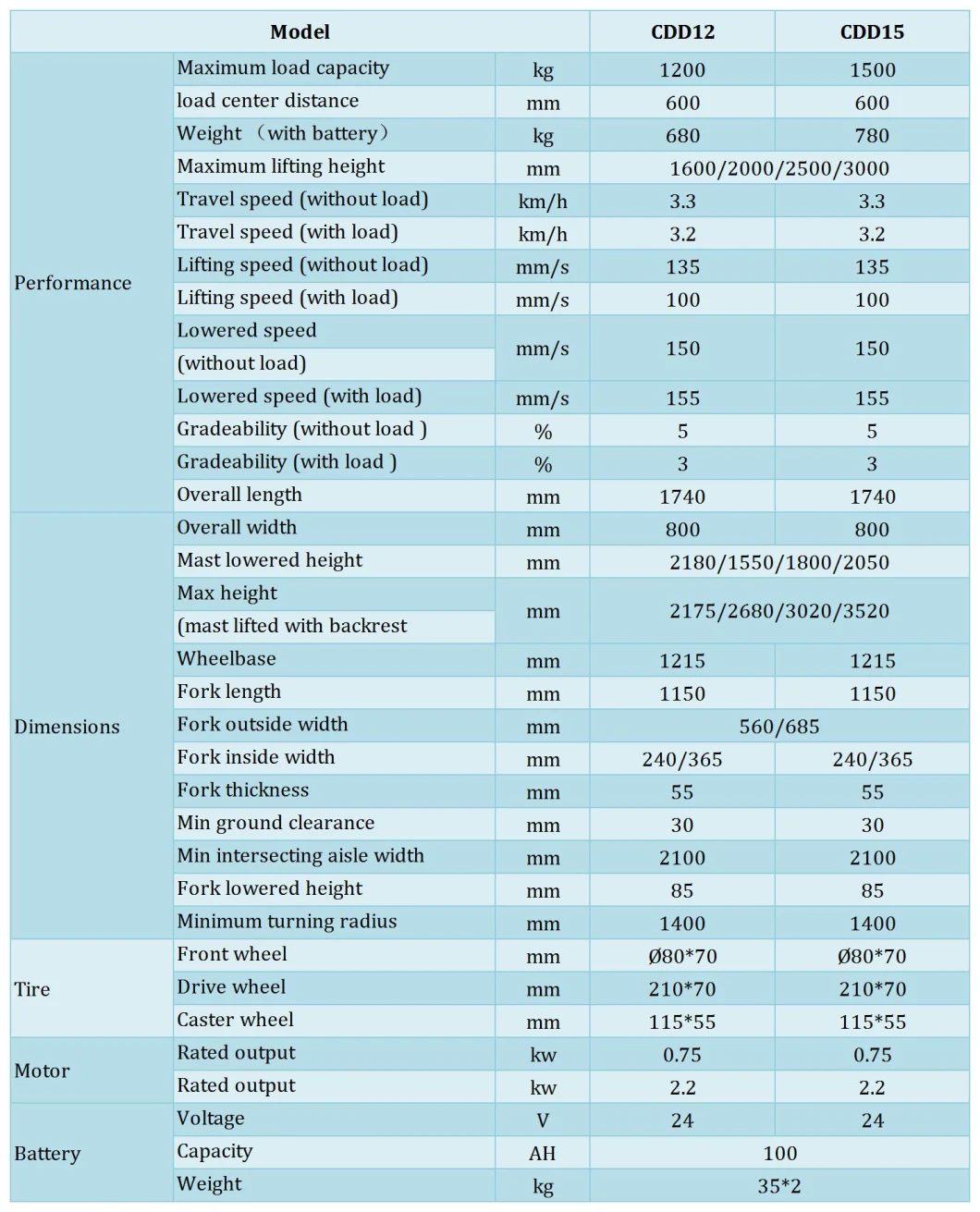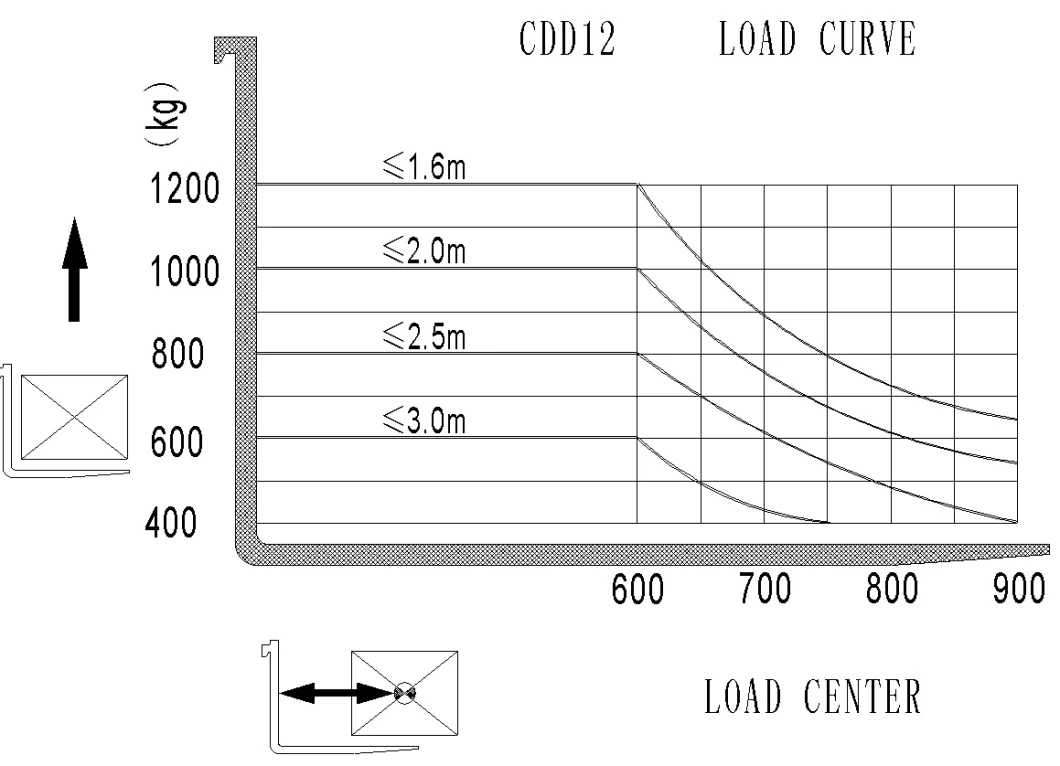 ADVANTAGES:1.2Ton 1200Kg 1.2T Battery pallet truck Electric Pallet Stacker 1.6M 2M 2.5M 3M mast with Ce ISO
Economic and energy saving, low maintenance cost, an ideal alternative to the semi-electric pallet stacker;

High efficiency permanent magnet drive motor, strong power.

High performance hydraulic station, low noise, smooth operation, high

Ergonomic handle design, buttons are easy to operate; suitable for left and right hand operation, better driving comfort.

Long handle steering operation, automatic deceleration when the fork is high, safe operation.

Full series of door frame can meet various needs of customers.

24V/80Ah industrial battery, large capacity, suitable for low/medium using frequency.

Built-in charger, more convenient.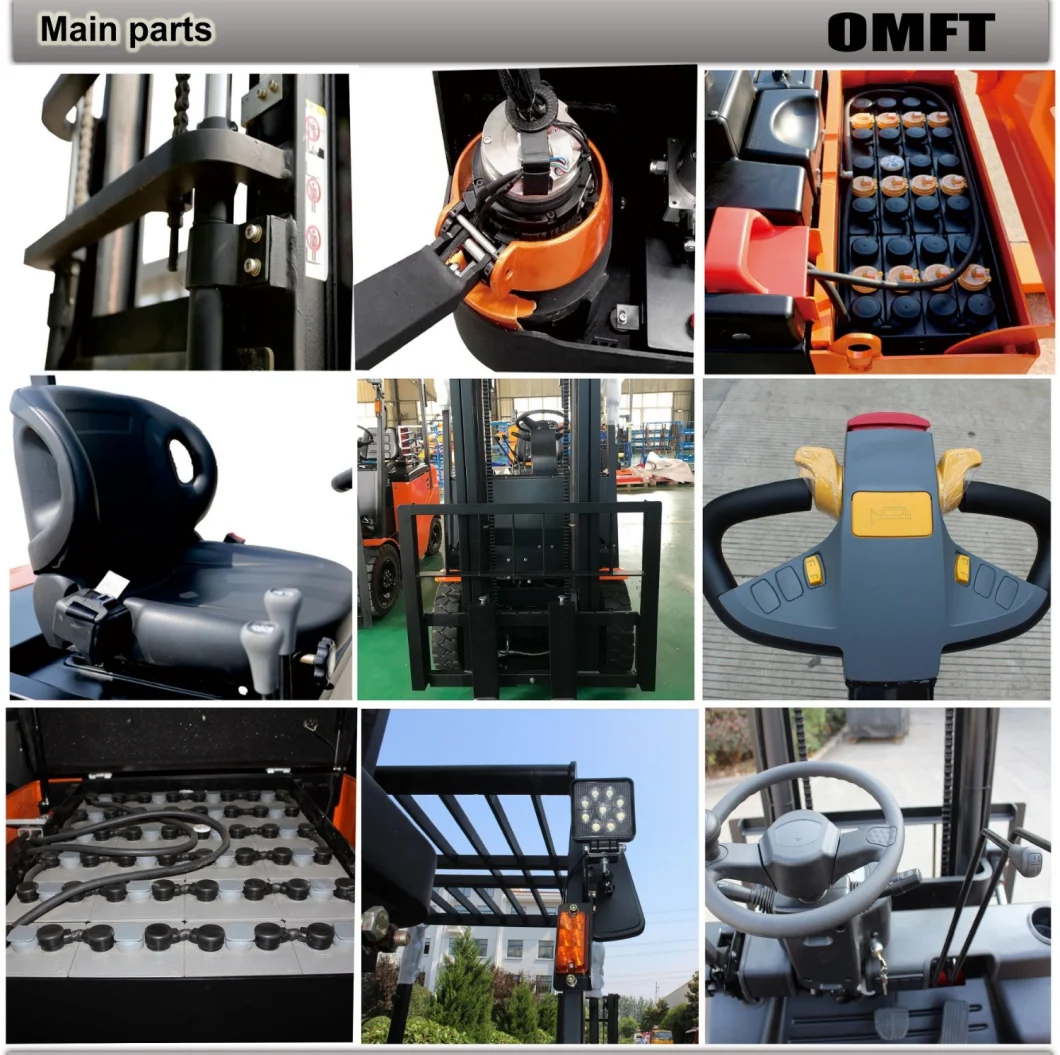 WHY CHOOSE US?
1.Strong production, research and development, after-sales capacity
We have 35, 000 square meters workshop and 100 R&D staff. We have been specializing in the forklift industry for more than 20 years. 20,000 units production capacity per year. OEM is also welcomed.

2.High quality source of raw materials and spare parts
Our spare parts and steel are all from well-known manufacturers at home and abroad with reliable quality. Besides, we are very professional in painting, welding and other production processes. Our products are both excellent in appearance and internal structure.

3.Competitive price and fast delivery
For standard forklift, normally we have them in store. If not, we can finish production within 1 week. Even for high mast and other non-standard forklift,we can finish production within 2 weeks. Our price is transparent and competitive. We are not the cheapest in the market, but we ensure you that our products worth every penny.

4.Professional technical guidance and use training
We have detailed operation instructions and video instructions for each product. If you have any question during the use, please feel free to contact us. We have professional personnel to answer them one by one.

5.Warranty and after-sales service
2000h or 2 years warranty time. Free parts change during warranty time.
Strict quality testing was conducted for each truck before shipping to ensure the safety of users.
In order to ensure our customer has a good using feeling, we send some spare parts for free with every forklift, eg: filters, seal, cylinder, etc.
In future, if customers need any spare parts, we will arrange shipping within 48h.

6.Complete product line
Diesel Forklift:1.5ton; 2ton; 2.5ton;3ton; 3.5ton; 3.8ton; 4ton; 4.5ton; 5ton; 6ton; 7ton; 8ton; 10ton; 12ton; 14ton; 15ton;16ton; 25ton; 28ton; 33ton; 42ton;45ton;48ton.
LPG&Gasoline Forklift :1.5ton; 2ton; 2.5ton;3ton; 3.5ton; 4ton; 5ton; 6ton; 7ton.
Electric Forklift: 1ton; 1.5ton; 2ton; 2.5ton;3ton; 3.5ton; 4ton; 5ton; 6ton.
Warehouse and material handling equipment: Manual hand pallet truck; electric pallet truck; electric pallet stacker; electric reach stacker; VNA(very narrow aisle) 3way or 4ways stacker; tow tractor; AGV equipments
Aerial platform:Scissor lifting platform 3.9M; 5.8M; 8M;10M;12M;14M
Rough terrain Off-road forklift and side forklift truck: 2ton to 12 ton

7.Logistics
It doesn't matter whether you have import qualification or not, we can solve the logistics problem for you. We have reliable logistics team and can send the goods directly to your warehouse if you need.
Also, we can do FOB, CIF and FCA term as you required.