Brand New Container Forklift 16ton FD160 CPCD160 Diesel Forklift with Fork Positioner
16Ton 12ton 15ton 18ton 25ton 28ton 33ton 42ton 45ton 48ton Counterbalanced Diesel Forklift Truck Heavy Duty Fork Ce ISO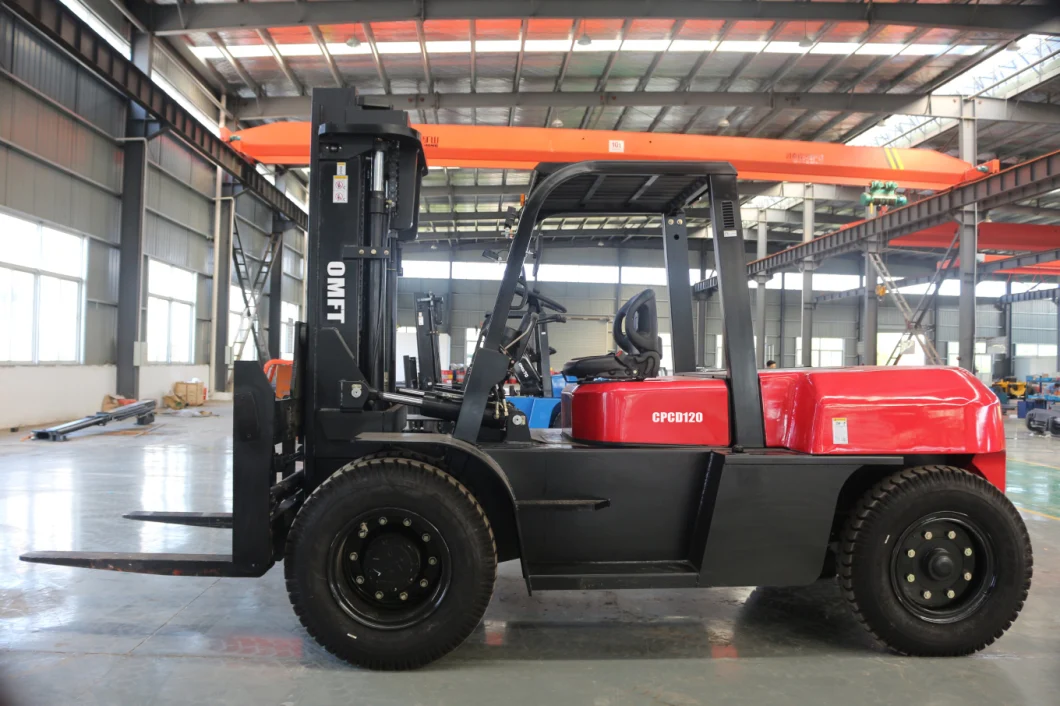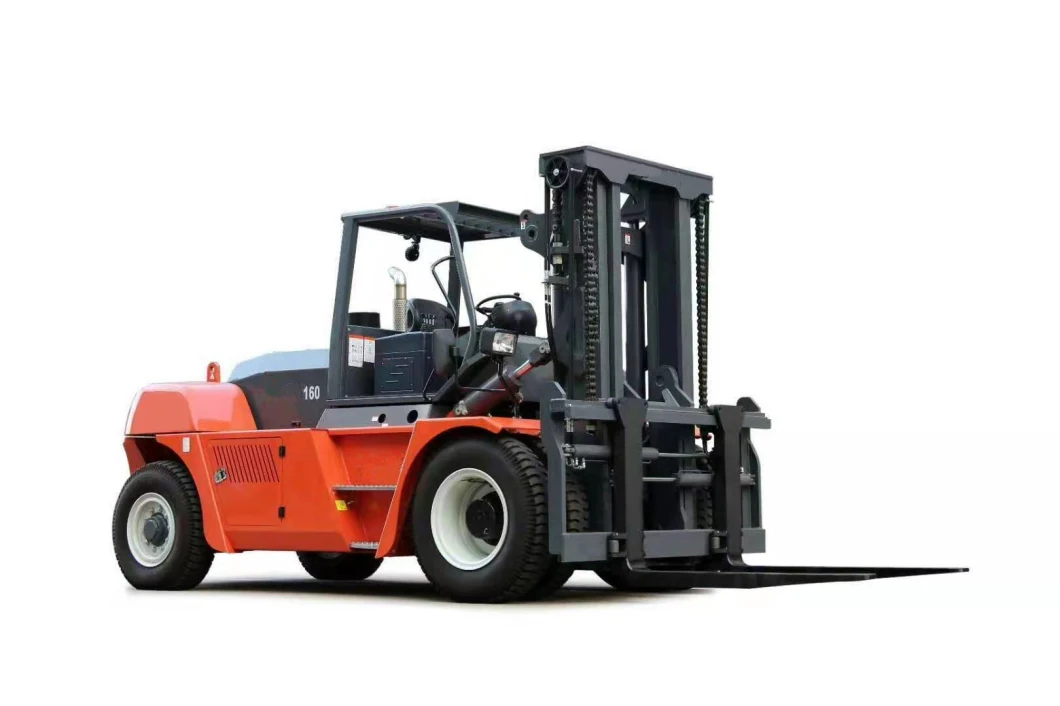 Item
Model
Unit
CPCD120
CPCD150
CPCD160
1
Power Type
Diesel
Diesel
Diesel
2
Rated Capacity
kg
12000
15000
16000
3
Load Centre
mm
600
600
600
4
Max Lifting Height
mm
3000
3000
3000
5
Fork Size
L×W×T
mm
1220×170×80
1800X180X90
1800X180X90
6
Mast Tilt Angle
F/R
Deg
6°/12°
6°/12°
6°/12°
7
Front Overhang (Wheel center to fork face)
mm
780
8
Ground Clearance(Bottom of mast)
mm
240
250
265
9
Overall Dimension
Length to face of fork(Without fork)
mm
4450
5770
5780
10
Overall Length(with fork)
mm
5800
7570
7580
Overall Width
mm
2200
2750
2750
11
Mast Lowered Height
mm
2175
3500
3500
12
Mast height
mm
3300
3625
3625
13
Overhead Guard Height
mm
2570
14
Turning Radius (outside)
mm
4200
5800
5800
15
Speed
Travel (No load)
km/h
30
30
30
16
Lifting(Full load)
mm/s
290
300
300
17
Max.Gradeability (No load/Full load)
%
20
20
20
18
Tire
Front
mm
9.00-20-14PR
4X12.00-24/18PR
4X12.00-24/18PR
19
Rear
mm
9.00-20-14PR
2X12.00-20/18PR
2X12.00-20/18PR
20
Wheel Tread
Front
mm
1600
2060
2060
21
Rear
mm
1700
2330
2330
22
Wheelbase
mm
3000
3800
3800
23
Self weight
kg
13500
20000
21000
24
Battery
Voltage/Capacity
V/Ah
2*12/80
25
Engine
Model
6BT5.9-C130
Cmmins 6BTAA5.9-C190
Cmmins 6BTAA5.9-C190
26
Manufacture
Cummins
Cummins
Cummins
27
Rated output/r.p.m.
kw
97/2200
142/2200
142/2200
28
Rated torque/r.p.m.
N·m
560/1500
800/1500
800/1500
29
No.of Cylinder
6
30
Bore×Stroke
mm
102*120
31
Displacement
L
5.9
32
Fuel Tank Capacity
L
135
1. Drivelines: Imported engine or diesel engine meeting national level 3 (EU3) emission standard is assembled on the truck. This model possesses strong drive power and good weather-resistance.
2. Transmission: The model is assembled with originally designed optimal automatic transmission with a market inventory of 500, which is safe and reliable, and easy to maintain.
3. Drive axle: The truck is assembled with axle specially designed for heavy trucks, stable and reliable braking, have a good using the performance, performance and price rate
4. Hydraulic system: perfect hydraulic system with high efficiency and fuel economy is assembled on the truck. Advanced techniques such as load sensing and dual pump converging are applied to save energy and reduce the cost.
5. High strength structure components: Heavy-duty box-type chassis is reliable. The design perfectly meets the requirement of reliability and stability, especially in paper industry and container transportation.
6. Tilting cabin makes a better experience of maintenance and repairing.
WHY CHOOSE US?
1.Strong production, research and development, after-sales capacity
We have 35, 000 square meters workshop and 100 R&D staff. We have been specializing in the forklift industry for more than 20 years. 20,000 units production capacity per year. OEM is also welcomed.

2.High quality source of raw materials and spare parts
Our spare parts and steel are all from well-known manufacturers at home and abroad with reliable quality. Besides, we are very professional in painting, welding and other production processes. Our products are both excellent in appearance and internal structure.

3.Competitive price and fast delivery
For standard forklift, normally we have them in store. If not, we can finish production within 1 week. Even for high mast and other non-standard forklift,we can finish production within 2 weeks. Our price is transparent and competitive. We are not the cheapest in the market, but we ensure you that our products worth every penny.

4.Professional technical guidance and use training
We have detailed operation instructions and video instructions for each product. If you have any question during the use, please feel free to contact us. We have professional personnel to answer them one by one.

5.Warranty and after-sales service
2000h or 2 years warranty time. Free parts change during warranty time.
Strict quality testing was conducted for each truck before shipping to ensure the safety of users.
In order to ensure our customer has a good using feeling, we send some spare parts for free with every forklift, eg: filters, seal, cylinder, etc.
In future, if customers need any spare parts, we will arrange shipping within 48h.

6.Complete product line
Diesel Forklift:1.5ton; 2ton; 2.5ton;3ton; 3.5ton; 3.8ton; 4ton; 4.5ton; 5ton; 6ton; 7ton; 8ton; 10ton; 12ton; 14ton; 15ton;16ton; 25ton; 28ton; 33ton; 42ton;45ton;48ton.
LPG&Gasoline Forklift :1.5ton; 2ton; 2.5ton;3ton; 3.5ton; 4ton; 5ton; 6ton; 7ton.
Electric Forklift: 1ton; 1.5ton; 2ton; 2.5ton;3ton; 3.5ton; 4ton; 5ton; 6ton.
Warehouse and material handling equipment: Manual hand pallet truck; electric pallet truck; electric pallet stacker; electric reach stacker; VNA(very narrow aisle) 3way or 4ways stacker; tow tractor; AGV equipments
Aerial platform:Scissor lifting platform 3.9M; 5.8M; 8M;10M;12M;14M
Rough terrain Off-road forklift and side forklift truck: 2ton to 12 ton

7.Logistics
It doesn't matter whether you have import qualification or not, we can solve the logistics problem for you. We have reliable logistics team and can send the goods directly to your warehouse if you need.
Also, we can do FOB, CIF and FCA term as you required.