Product Item: Nalift 3t Narrow Aisle Reach Forklift Trucks
Nalift electric narrow aisle forklift allows you to reduce the size of the aisle width while increasing storage space and reducing storage costs. The nalift narrow aisle articulating trucks allows you to increase storage space by up to 50%, maximizing every square foot of your warehouse. Comparing to reach trucks, Nalift VNA trucks creats 30% more pallet positions, compairing to counterbance forklifts, it creats 50% morepallet positions. So the Nalift VNA articulated forklifts can save users much time, space and money. Nalift electric articulated lift truck is used inside and outside, which can be operated on any floor surface, and at the same time, it can do the work of the reach truck and the counterbalance forklift. Narrow aisle forklifts reduce the number of forklifts needed in your fleet.
Full Nalift articulated forklifts ranges are standard equipped with 80V AC ZAPI dual-core controller which makes it has a lower failure rates and creates lower heat after long time using, 80V AC lifting motor and driving motor and 80V 400ah-600ah lead acid battery or li-ion battery which provides stronger power, increases efficiency and greatly reduces maintenance costs.
Less Cost Narrower Aisle Higher Productivity Lift Up To 12400mm Smart Fingertip Armrest 80V Full AC Control System Aisle Width As Narrow As 2100mm

NALIFT15 rated capacity 1500KG, lift height 4300mm -7050mm,
NALIFT20 rated capacity 2000KG, lift height 4300mm-10050mm,
NALIFT25 rated capacity 2500KG, lift height 4300mm-12400mm,
NALIFT30 rated capacity 3000KG, lift height 4300mm-12400mm.

WHY CHOOSE NALIFT ARTICULATED FORKLIFT?
The features of Nalift VNA truck
1. Lift height up to 12m, aisle width as narrow as 1.8m.
2. It creates 50% more pallet positions than counterbalance forklifts and 30% more positions than reach trucks.
3. 220°articulated angle, flexible working in the ultra-narrow channel.
4. Standard equipped with 80V AC ZAPI controller and 80V AC lifting&driving motor. It creats lower heating, lower failure rate. And it has stronger power, higher efficiency and maintenance free.
5. Standard equipped with Electro-hydraulic proportional valve, valve speed can be adjusted according to drivers' will, making it easier and more accurate to pick up/unload pallets in narrow aisles.
6. Standard equipped with fingertip armrest control, it provides better control experience, more flexible and accurate operation. It also has inch move mode. With better inching performance, it makes our articulated trucks very suitable for high lifting working environment.
7. The firm construction of chassis and mast ensure heavy-duty use.
8. It can work on any floor surface, both inside and outside, eliminates double handling, move pallet from lorry to rack just in one step, so it save much time and money.
9. The maintenance cost is significantly less than complicated reach trucks/swing reach truck.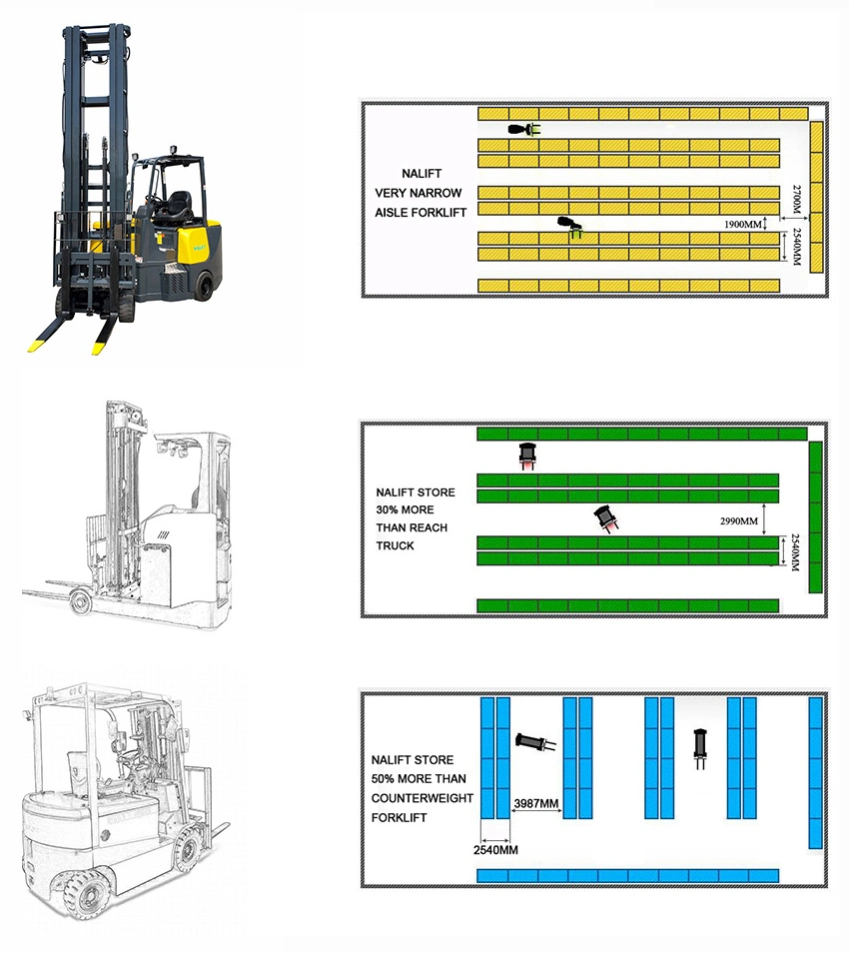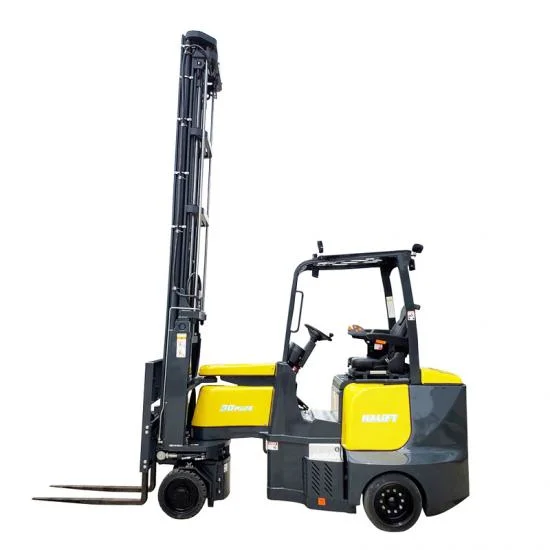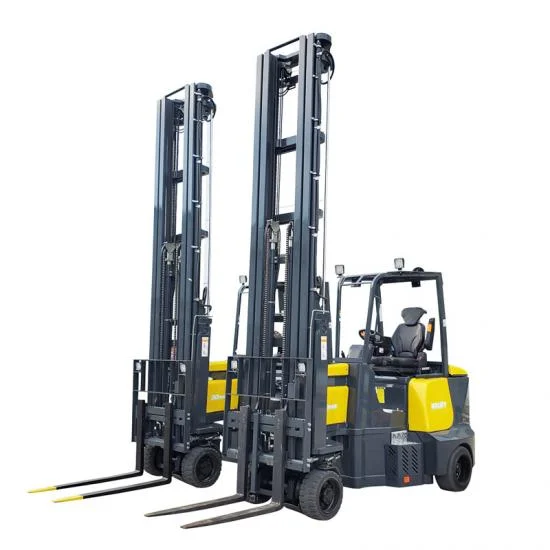 Advanced Parts

Descriptions

Fingertip armrest

Fingertip armrest

Combines

fingertip armrest

and electro proportional valve,

Nalift VNA forklifts

provides better driving experience, more flexible and accurate operation. It also provides a special picking mode, easy for drivers to load/unload pallets in

narrow aisles

.

With better inching performance, it makes the

Nalift articulated forklift

s

very suitable for high-intensity work.

Proportional valve

Proportional valve

Electro-hydraulic proportional valve match with fingertip armrest can adjust the speed of mast lifting/falling, side shift and tilting at will, making it easier and more accurate to pick up/unload goods in narrow aisles.





ZAPI Controller

ZAPI Controller

Nalift VNA articulated forklift

ranges are standard fitted with 80V full AC ZAPI dual-cor

e controller. As the voltage is higher, it produces lower current, lower heating, lower failure rate. Therefore, all electrical components will have a longer service life.

Lifting M

otor

Lifting Motor (left)

Fitted with

external encoder bearing, easy for maintenance.

80V AC

15kw/h

Lifting speed: 0.44/0.5m/s

Fitted with

external encoder

bearing,

e

asy for maintenance

Adjustable Sus

pension Seat

Adjustable Suspension Seat

Bearings

Bearings

The steering motor drives the large gear ring through the small gear ring, which is more labor-saving and has longer service.

Extremely small gear clearance ensures structural stability and thus reduces failure rates.

10 years warranty for the gear.

Cooling Fans

Cooling Fans

All Nalift VNA forklifts are equipped with two efficient cooling fans, even in high temperature environment it can quickly cool down the motor and gear pump.

Guiding lasers

Guiding lasers

When the laser point to pallet center then drivers can steer direction, pushing forks into fork section accurately. It reduces accidents greatly.
Standard parts

Optional parts

Fingertip armrest

Wireless camera and monitor

Electro-hydraulic proportional valve

L

ithium ion battery

80

V

AC

Z

A

P

I controller

Do

uble deep forks

80V AC lifting&;driving motor

Weighing forks

80V 400AH lead acid battery and customized charger station

Height pre-selector

LED

&;

war

ning light

Cabin

C

ooling fans

White tyres

T

riplex full free mast

Quad mast

Integral s

ide shift

Fork positioner

Load backrest

Black solid tyres

Backup

mirror

Suspension seat with safe

ty

belt and

OPS

system

Guiding lasers
Specifications
Mod

el

Unit

NALIFT30

Capacity

KG

3000

Mast

l

ift height

MM

4300-12400

Mast f

ree lift height

MM

1365-4686

Mast closed height

MM

2265-5665

Mast full

extended height

MM

5561-13739

Overall length(excluding forks)

MM

2780

Ground clearance

MM

50

Overhead guard height

MM

2270

Chassis width rear

MM

1600

Chassis width front

MM

980

Load center

MM

600

Wheelbase

MM

1735

Seat height

MM

1220

Mast tilt angle(back/fwd)

DEGREE

3/1

Front chassis r

o

t

a

t

e angle(left/right)

DEGREE

220

Ground speed

KM/H

16

Lift speed(load/unload)

M

/

S

0.44/0.5

Front tyre size

MM

412x174

Rear tyre size

MM

457x170

Grade ability(load/unload)

%

1

8

/20

Battery voltage/capacity

V/AH

80/500

We

ight including battery

KG

5150

Weight excluding battery

KG

7900

Traction motor

KW

19.5

Lifting motor

KW

15

Min n

et working aisle width

MM

2100

Transfer aisle width

MM

2700
Nalift Co., Ltd is a indepemdent manufacturer of material handling equipments with over 20 year experience. Nalift aim to offer high standard products while maintain as low cost as possible to benefit users. The chief technology officer of Nalift has 40 years of design and manufacturing experience in the forklift industry. He founded Nalift brand by combining his years of experience and upgrading and innovation on the basis of the original technology.
Nalift is of European origin. All the key parts were imported from Europe then assembled in Chinese factory. Apart from the advanced parts, the design and operating system of the whole truck are also from Europe. And Nalift products have been honored with CE, SGS certificate.
Nalift has advanced production lines, complete research and development equipments and quality services providing customers first-class product experience. After scientific testing and high-intensity driving tests, Nalift products can achieve higher lifting height, greater loading capacity, better driving experience and lower operating costs, which not only improves production efficiency but also saves warehouse space. All the work of counterbalance forklift and reach truck can be done by only one Nalift narrow aisle articulated forklift. This innovative design brings a lot of convenience to customers, including narrower warehouse access, higher work efficiency, better driving experience and lower operating costs.
Since its establishment, Nalift forklifts has been known for its high quality, high cost performance, good ergonomic design, stable performance and easy to maintain. At the same time, Nalift also provide quick pre-sales and after-sales services and a wide range of product customization services. According to clients's requirements, we provide customized complete sets of solutions.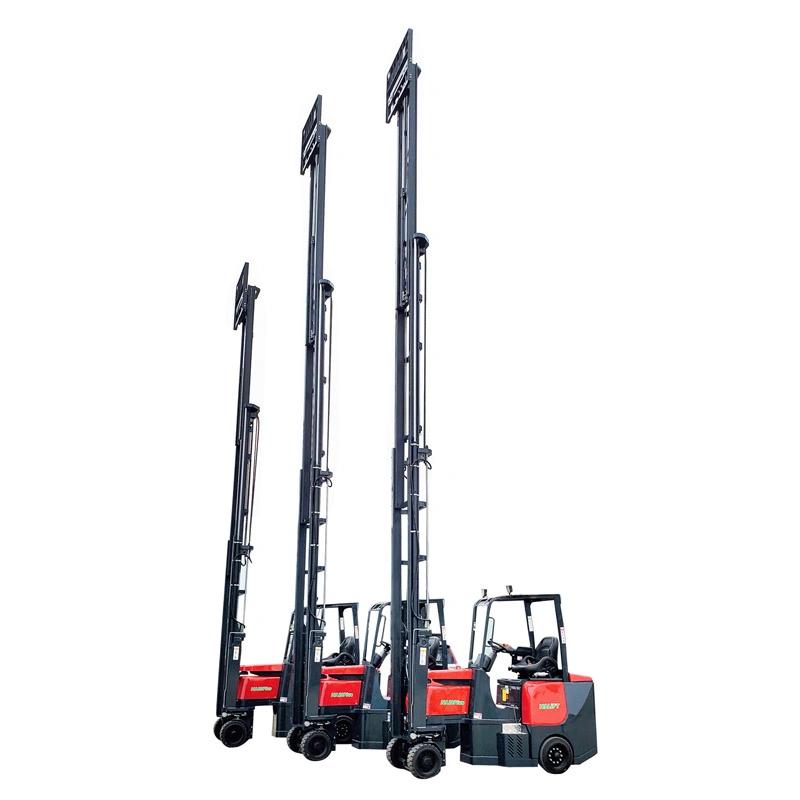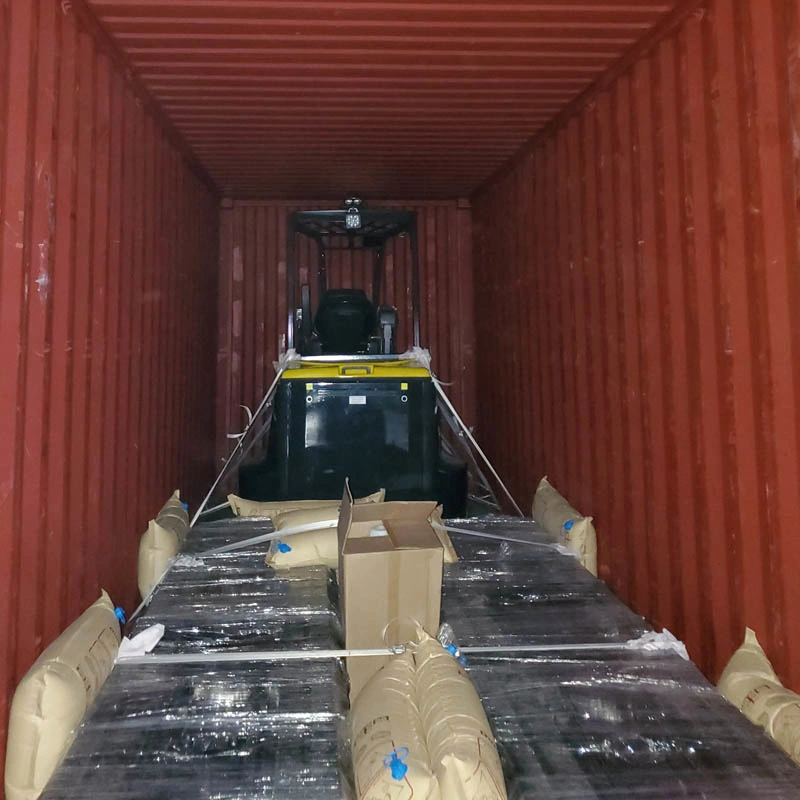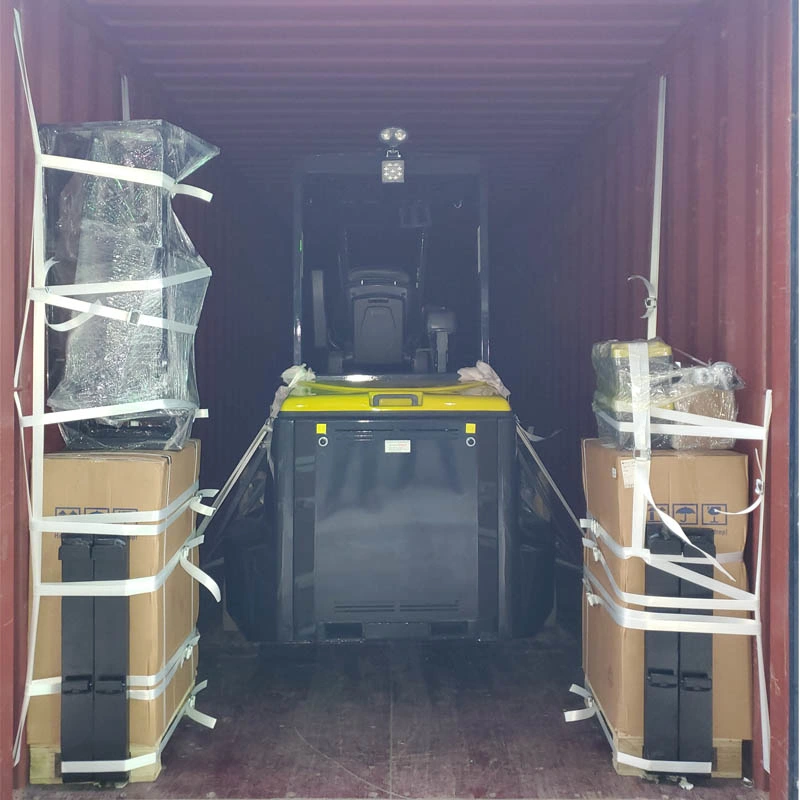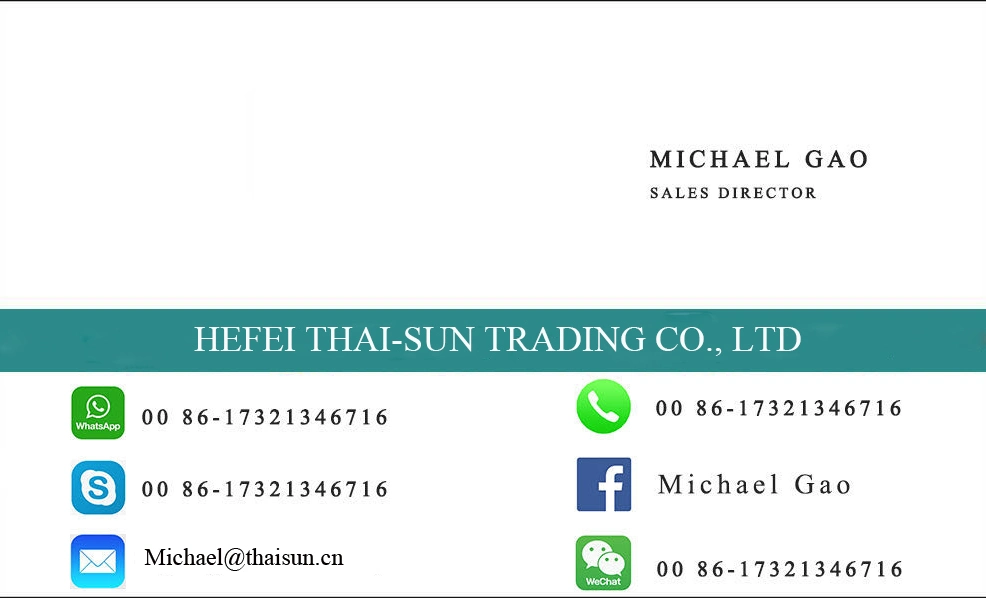 1. What is your company type?


We are the manufacture and international trade company



2. Is your factory close to Shanghai airport?


Yes, our forklift factory is close to Shanghai Hongqiao Airport, 2 hours



3. What payment terms can you accept?


EXW, FOB, CIF



4. What is your manager whatsapp number?


0086-17321346716