Forklift Attachment Bilateral shift shifter Double wide Sideshifters Forklift Part for 3ton to 4.5ton Forklift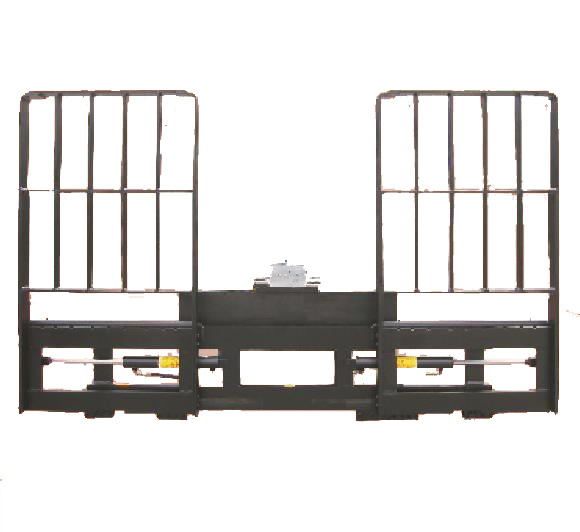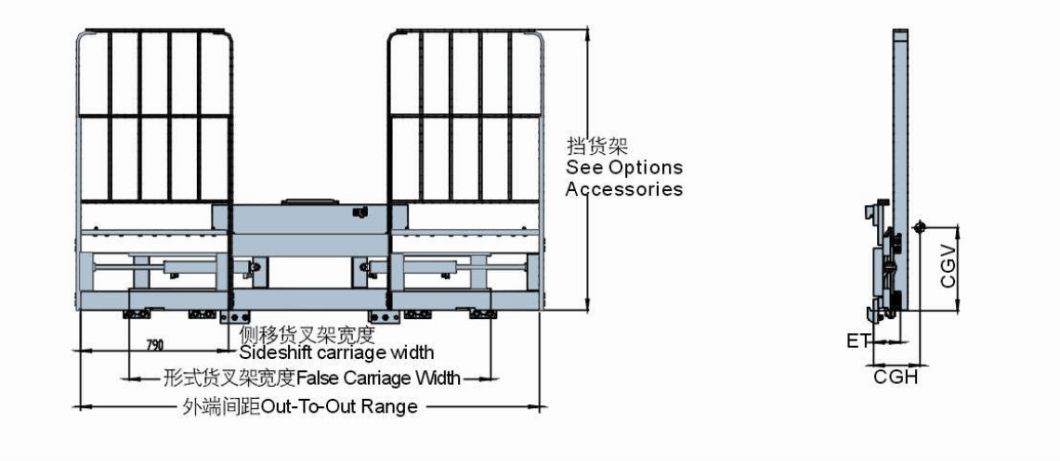 Model

Bearing capacity @

load center

(Kg@mm)

Adaptive forklift truck

Outer end spacing

(mm)

Unilateral stroke

(mm)

Width of form fork carrier

(mm)

Maximum distance between two pallets

(mm)

Vertical center of gravity

CGV

(mm)

Horizontal center of gravity CGH

(mm)

Lost load distance

ET

(mm)

Dead weight

(Kg)

SC30D-B1

3000@600

3-4.5t

1805-2490

345

1930

685

290

53

119

341

SC30D-B2

3000@600

3-4.5t

1805-2490

302

1620

604

380

90

143

328
Note:
1,The actual comprehensive bearing capacity of forklift / accessories shall be obtained from the forklift manufacturer.
2,It is required to add 2 sets of additional oil circuits to match the accessories.
3,It is required that the minimum width of forklift frame is 955mm.
4,Optional shelf, without fork.

Model

Pressure value(Bar)

Flow value(L/min)

Maximum

Minimum

Recommend

Maximum

SC D

210

4

8

11
Product characteristics
Hydraulic system: all seals are imported products, and high-pressure rubber hose is imported rubber hose with cone sealing performance.
Structural parts: the fork frame is welded with high-performance alloy steel plate.
Mechanical properties: the two side moving frames can move separately (separate, close, move left, move right), with good vision.
Scope of application: it is suitable for carrying all kinds of box shaped and scattered goods, making forklift move two pallets of goods respectively and make them close, or separating two pallets of goods, so as to significantly improve the handling efficiency.
WHY CHOOSE US?
1.Strong production, research and development, after-sales capacity
We have 35, 000 square meters workshop and 100 R&D staff. We have been specializing in the forklift industry for more than 20 years. 20,000 units production capacity per year. OEM is also welcomed.

2.High quality source of raw materials and spare parts
Our spare parts and steel are all from well-known manufacturers at home and abroad with reliable quality. Besides, we are very professional in painting, welding and other production processes. Our products are both excellent in appearance and internal structure.

3.Competitive price and fast delivery
For standard forklift, normally we have them in store. If not, we can finish production within 1 week. Even for high mast and other non-standard forklift,we can finish production within 2 weeks. Our price is transparent and competitive. We are not the cheapest in the market, but we ensure you that our products worth every penny.

4.Professional technical guidance and use training
We have detailed operation instructions and video instructions for each product. If you have any question during the use, please feel free to contact us. We have professional personnel to answer them one by one.

5.Warranty and after-sales service
2000h or 2 years warranty time. Free parts change during warranty time.
Strict quality testing was conducted for each truck before shipping to ensure the safety of users.
In order to ensure our customer has a good using feeling, we send some spare parts for free with every forklift, eg: filters, seal, cylinder, etc.
In future, if customers need any spare parts, we will arrange shipping within 48h.

6.Complete product line
Diesel Forklift:1.5ton; 2ton; 2.5ton;3ton; 3.5ton; 3.8ton; 4ton; 4.5ton; 5ton; 6ton; 7ton; 8ton; 10ton; 12ton; 14ton; 15ton;16ton; 25ton; 28ton; 33ton; 42ton;45ton;48ton.
LPG&Gasoline Forklift :1.5ton; 2ton; 2.5ton;3ton; 3.5ton; 4ton; 5ton; 6ton; 7ton.
Electric Forklift: 1ton; 1.5ton; 2ton; 2.5ton;3ton; 3.5ton; 4ton; 5ton; 6ton.
Warehouse and material handling equipment: Manual hand pallet truck; electric pallet truck; electric pallet stacker; electric reach stacker; VNA(very narrow aisle) 3way or 4ways stacker; tow tractor; AGV equipments
Aerial platform:Scissor lifting platform 3.9M; 5.8M; 8M;10M;12M;14M
Rough terrain Off-road forklift and side forklift truck: 2ton to 12 ton

7.Logistics
It doesn't matter whether you have import qualification or not, we can solve the logistics problem for you. We have reliable logistics team and can send the goods directly to your warehouse if you need.
Also, we can do FOB, CIF and FCA term as you required.