Giant Lift 1000Kg 3M Full Electric Walkie Pallet Straddle Stacker CTD10R-E(3M)
Product Feature:
• Compact design for US type pallet, perfect stacking and pallet positioning as well as stocking and refilling shelves.

• Small turning radius widely used in small warehouse and supermarket

• Suit for low level stacking and short distance transportation

• Back cover is integrated type design ,easy to assemble and maintain

• Gel battery free to maintain

• Built-in charger easy to access to power supply

• 6 Hours Battery Charing Time, 6 Hours Working Time

• Lifting by electric power, move by electric power

• Efficient and energy-saving power unit

• Warranty: One year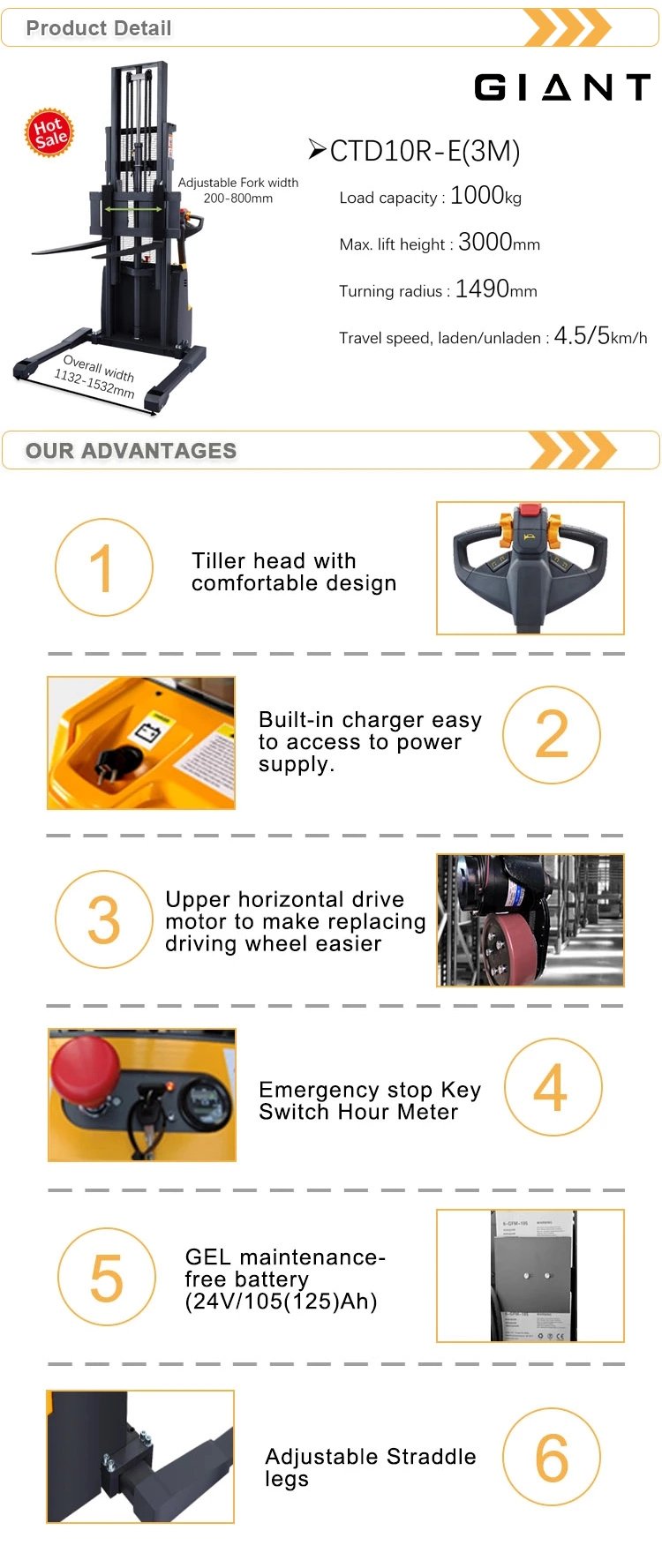 Model

CTD10R-E

CTD12R-E

CTD-15R-E

Capacity

(kg)

1000

1200

1500

Load centre distance

c(mm)

600

Load distance, centre of drive axle to fork

x(mm)

770

Fork height, lowered

h13(mm)

80

Height, mast lowered

h1(mm)

2145/1895/2145

2140/1890/2140

Height, mast extended

h4(mm)

2145/3100/3600

Max. lift height

h3(mm)

1600/2500/3000

Overall length

l1(mm)

1500

Length to face of forks

l2(mm)

660

Overall width

b1(mm)

1132-1532

Fork dimensions

s/e/l(mm)

35/100/1070(1150)

Width overall forks

b5(mm)

200-800

Aisle width for pallets 800x1200lengthways

Ast(mm)

2280

Turning radius

Wa(mm)

1490

Travel speed, laden/unladen

(Km/h)

4.5/5

Lifting speed, laden/unladen

(m/s)

0.09/0.14

0.08/0.11

Battery Voltage, normal capacity K5

V/Ah

24/105(125)

24/125

Truck weight(with battery)

(kg)

490/555/575

580/645/665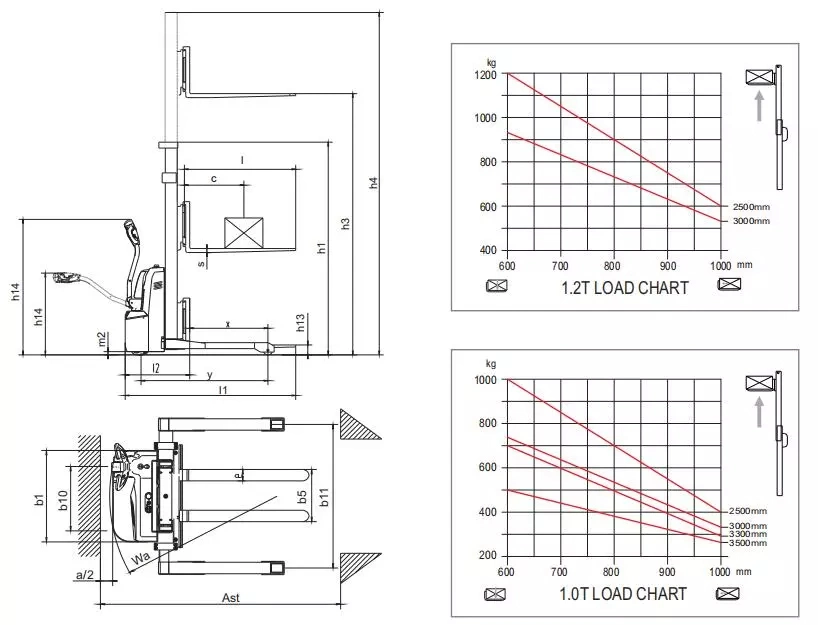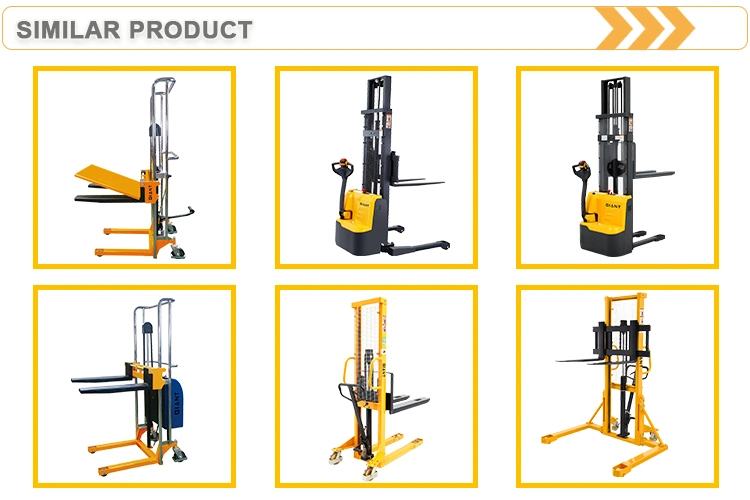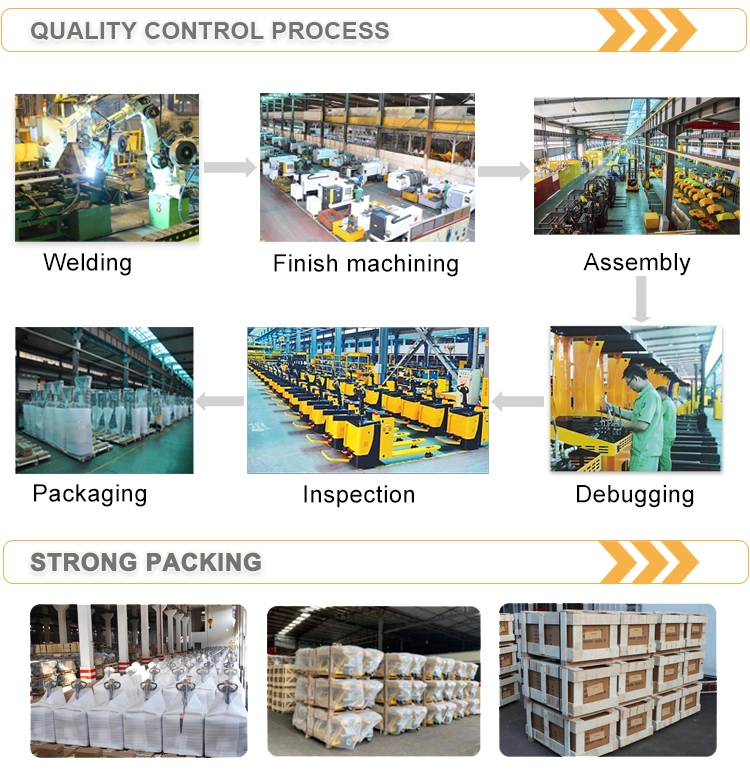 Q1: Are you a factory or a trading company?
A1

:

We are a combination of both, we focused on manufacturing material handling product such as lift tables, manual & electric pallet trucks and lifting platforms over 35 years, we also exporting manual & electric chain hoist, lever hoisting, lifting clamp and steel jack. We are your ideal choice for one stop purchase with our compete line of industrial lifting/moving equipment
Q2: Can Giant lift provide customized products? OEM products or ODM products?
A2:
Yes, Giant lift can provide customized products according to your requirement. Both OEM and ODM are acceptable.
Q3: Can we print the LOGO on products?
A3: Yes, the OEM is available with the permission of our customers.
Q4: How do you control your quality?
A4: 1. We only select high-quality steel material from famous steel group
2. Standardized production process with traceable ID Card, every part can be tracked to the original records.
3. 100% finished product testing before shipping.
4. We accept third party product inspections.
5. ISO9001 Quality management system certificated factory
6. Supervised container loading process, ensures the last step security
Q5: How long is the warranty on your products?
A5: We provide 12 months warranty for all of our product, excluding wear parts such as wheels, tire or hydraulic oil
Q6: What's the lead time for production?
A6: Usually around 10-15 days after payment received, around 30 days during new year's or national holidays.
Q7: What Payment terms do you accept?
A7: T/T or L/C, if you want any other method please contact sales
Q8: What are your advantages compared to the others?
A8:
Unique products, with customized service.

Timely production and delivery, time is money.

Market protection service, long term business strategy.